Life Practice Program
Body Wisdom is offering the Life Practice Program again in Seattle beginning in the fall of 2015. The program will be led by Harriet Platts with TraceyJoy Miller.  This year's schedule will include:
The Secrets of InterPlay, Sept 17 – 20, 2015 (Thurs, 6:30 – 9:00 pm, Fri and Sat, 9:30 am- 4:00 pm, and Sun, 1:30 – 4:00 pm)
Life Practice Monthly Gatherings scheduled for Oct. 10, Nov 7. Dec 12, Jan 9, Feb 13 , Mar 12, Apr 9, May 14 (9:30 am to 4:00 pm).
Learn more by attending an Information Session on either May 14 or June 11, from 7- 8:30 at Queen Anne Christian Church.
Feel free to contact Harriet Platts at seeker@seanet.com or 206/227-6107 with questions.  She and/or TraceyJoy would be happy to meet with you and discuss your possible participation.
All gatherings take place at Queen Anne Christian Church in Seattle.  More about the InterPlay Life Practice Program
When we explore InterPlay through the  Life Practice Program it moves us from:
an ethic of work, work, work to an ethic of play
loneliness to community
being stuck to finding creative solutions
fear to empowerment
It is a perfect accompaniment to other spiritual practices. For these reasons graduates of the program often consider doing it again!
The real genius of InterPlay is how it fosters healthy community and reaches across the boundaries of race, culture, gender, and religion. InterPlay's potential for stimulating social change is why over 700 people in India, Brazil, Australia, Germany and the United States are leading and sharing it with others.
What Happens in the Life Practice Program?
You'll practice the easy-going "five recommended daily requirements" for health: to move, tell your story, have your voice, make contact, and just be.
You'll explore how to use tools like easy focus, noticing, and witnessing in everything you do.
You'll have chances to play with your concerns and move toward your dreams with the support of an affirming community.
You'll learn to use eight, core InterPlay practices to shift from stress to grace at home, in relationship and at work.
And you'll get to do all this while taking care of yourself and honoring your limits and gifts.
InterPlay's practical, effective, health-making tools are used by people of all ages–teens, kids, elders, and mid-lifers. Therapists, clergy, educators, activists, non-profit leaders and coaches incorporate InterPlay in their self-care and work practices. (Course meets the qualifications for 55 hours of continuing education credit for MFT's and/or LCSW's as required by the California Board of Behavioral Sciences.)
Come immerse yourself in this active, creative approach to unlocking the wisdom that YOU hold in your own body. Learn ways to enhance individual and community life using forms that inspire and ignite personal transformation and social change with surprising ease.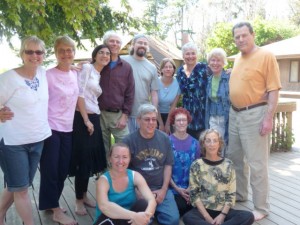 Life Practice Program Class of 2009